President's Message
Osaka University of Commerce aims to offer comprehensive education towards our primary objective of "Nurturing Individuals Who Will Benefit the World", and "Fostering a Spirit of Venture".
Here, we introduce our President, Ichiro Tanioka, and his thoughts on the university and on our students.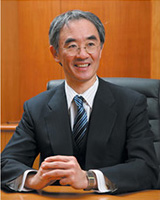 Message From the President
Nothing is learned from success; your failures are merely the starting point.
I would like everyone to grow without ever losing the passion for challenges.

The true meaning of enjoying life
After WWII, many new businesses sprang up in Osaka area, and the most developed city amongst them was Higashi-Osaka.
Established at its center, Osaka University of Commerce began from the desire to nurture talented individuals who will both take up new challenges and be of benefit to the world.
OUC is based on the following four pillars:"Kindness and courtesy", "Fundamental practical learning", "Flexible thinking", and "Enjoyment of life".
Among these, it is the last one, "Enjoyment of life", that expresses the university's most distinctive feature. It embodies our idea that individuals who will be truly beneficial to the world at large must first be happy themselves. Those who continue to feel a sense of challenge and who can enjoy tackling issues through positive thinking, even while experiencing difficulty and failure, they are the winners in life. It is my hope that all our students will be able to acquire the spirit behind this "Enjoyment of life".
If you feel unsure, the most important thing is "challenge"
People today are passive in both their study and play. There should still be ways that we can actively enjoy and live our lives. There are many fun things to do in the world. And, among them, it is most important for us to challenge and learn new things. Please throw away the "manual" and reach for your own self-fulfillment through action and creating things yourself. "Don't be a follower." It is from this concept that OUC has designed a curriculum that is based on: "First of all, think for yourself". For example, our OBP Course teaches students to create plans on their own and act towards revitalizing the local community. Naturally, many of these plans fail. However, rather than following the safe path according to past examples of success, we ultimately have much to learn from our failures.
If you find yourself unsure of anything during your four years of university life, whether in study or in play, I hope that all of our students would always choose the path of "action". And, by repeating this choice even after graduation, you will grow to be bigger and better human beings. Maintain the objective of not fearing failure, of challenging everything. And Osaka University of Commerce will support each and every person's start towards that challenge to the best of our ability.
Item
Content
Born
1956
Education
1980: Graduated from Faculty of Law, Keio University
1983: Completed his Master of Science in Business Administration from University of Southern California
1989: Completed his Ph.D. in Sociology from University of Southern California
Degrees
Ph.D. (Sociology), MPA (Business Administration)
Main work experience
Professor, Osaka University of Commerce, School of General Business Administration
Elected president of Osaka University of Commerce in 1997
Field of expertise
The history and economic development of Las Vegas
Affiliations
(In Japan)
Japanese Association of Sociological Criminology, Criminal Law Society of Japan, The Japan Sociological Society, Japan Academy of Gambling & Gaming Studies, Japanese Association of Victimology, Japan Association for Public Opinion Research
(Overseas)
American Society of Criminology, International Association of Gaming Regulators, International Society for Criminology