President's Message
OBP Course
Transcending the traditional boundaries of department and subject to produce "leaders required by the times".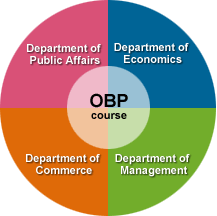 In Osaka University of Commerce Business Pioneer (OBP) Course, students who aim at becoming next-generation business leaders study in small class sizes that transcend the boundaries of department and subject.
The experiences of successful graduates are introduced under a learning environment of participation in various group projects and presentations, and with students vying in competition with each other.
The skills taught in the OBP Course are roughly divided into two categories. One is "quantifiable abilities", like the knowledge of economics and business administration, accounting competency, international communication skill, and information processing capabilities. With these, it is comparatively easy to objectively evaluate an individual's ability through their acquisition of corresponding qualifications. The other category is "indefinite abilities", such as one's ability in planning, communication, leadership and teamwork. These are taught through group work resulting in various research presentations, through cooperation between students in differing years of study - from the first to the fourth year - as well as through meaningful instruction in a system centered on small class sizes.
Polishing knowledge, skills, and abilities in a learning environment and with a support organization only offered by the OBP Course
The OBP Course provides a support organization for students as well as an environment that enables them to concentrate on their studies. Another major appeal to this course is that it facilitates a rewarding university life with enthusiastic teachers and friends that will continue well beyond your time at OUC.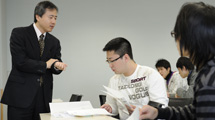 Small class sizes

Each class is comprised of around 25 students throughout the four years. This fosters an environment where each student can grow individually while working closely with select classmates who mutually value effort.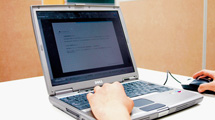 Free loan of a notebook PC for four years

OBP Course students can borrow a notebook PC for their four years at OUC. They are free to use that PC at home or wherever necessary, thus heightening the effect of learning.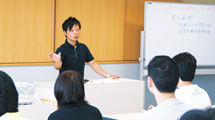 Abundant opportunities for exchange with graduates

"OBP Course Club" was organized in order to promote and deepen friendships between graduates and currently enrolled students. Parties, lectures by graduates, etc., are included.
Waiving fees for classes towards acquiring qualification
Classes held in the Career Support Room towards acquiring qualification for "Bookkeeping and Accounting", "English", and "Information Processing" can be taken for free.
Japan Chamber of Commerce and Industry's "Nisshoboki" Bookkeeping Test (Level 1, Level 2, Level 3)
IT Passport Test
TOEIC® Test Practice (Basic Course, Score Improvement Course)
Microsoft® Office Specialist